Thinking about a long distance hike in Ireland?
Need a packing list for the Ireland Way?
For many people, taking a long distance hike is a rarity. For this reason, it's common to overpack or take unnecessary items on that first trip.
I know this happened when I hiked the Pacific Crest Trail last year.
In this article, I wanted to lay out a packing list for the Ireland Way or any long distance trail in Ireland. However, please only take this post as a guideline, for there are certain items not on this Ireland Way packing list you might want or need.
Packing List for the Ireland Way: My Backpack
In my opinion, this is the best backpack for the Ireland Way or any other long distance hike. You can read or watch my full Osprey Exos 58 Review.
My Sleep System and Tent for the Ireland Way
Vango Banshee Pro 200 – 2.39kg
The North Face Blue Kazoo – 1.25kg
Generic Foam Themarest/Mattress – 0.4KG

My Full Kitchen for Hiking Around Ireland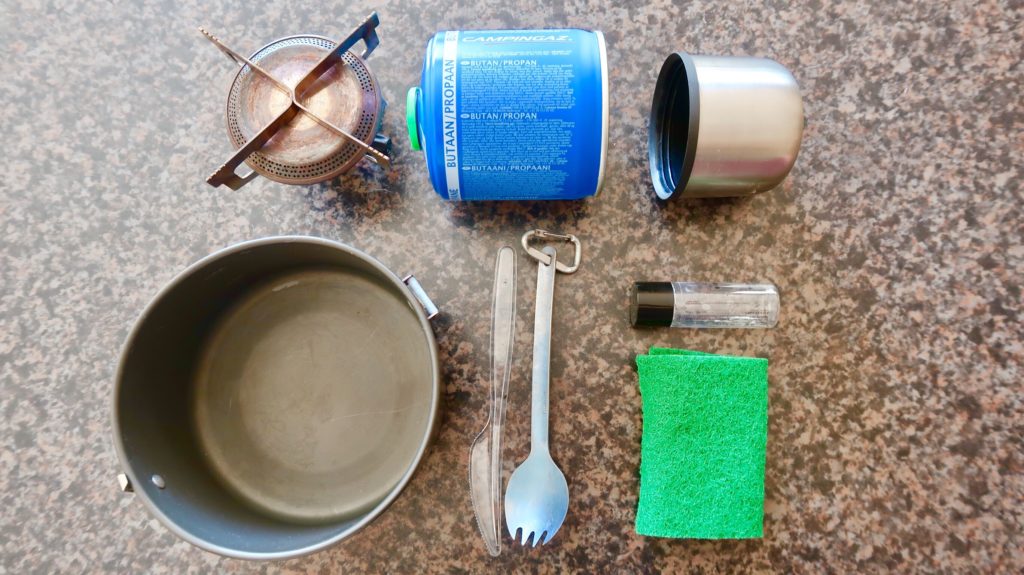 MSR Titanium Pot
Primus Stove & Gas Cylinder
Titanium Spork by Sea to Summit
Small Cup
Plastic Knife
Green Pad & Washing Liquid null
What Clothes for Hiking the Ireland Way
Altra Lone Peak Trail Shoes
2 x Darn Tough Hiking Socks & 1 x Woolly sleep socks
3 x Ex-Officio Underwear
1 x Vuori Trail Shorts & 1 x Quechua Shorts
3 x Quechua t-Shirts
1 x Light Sweater
Forclaz 800 Fill Jacket
Beanie Hat & Columbia Ethos Hat
Rain pants and rain jacket.
Windpants
My Toiletries for Ireland Way
Toothbrush/Toothpaste
Smelling Salts
SPF Lip Balm
Cotton Earbuds
Dental Floss
Nivea Moisturiser
Travel-size Soap
Scissors
Razor
Roll-on Deodorant
Toilet Bag with small packet of wet wipes inside.
My Electronics/Camera Equipment
As you can imagine, it's a hazard of making daily videos and the heaviest part of my backpack. But the creative side of adventure and getting outdoors is something that inspires me immensely.
Gorilla Camera Tripod
Canon G7X Camera (With Charger and Spare Battery)
SD Card Reader/s
20 Ampere Power Bank (Approx 5 x Phone Charges)
Actik Core Headlamp (With spare batteries)
Small Energizer PenTorch (My backup light)
GoPro Hero 3 (For filming in Rain/Bad Weather)
Samsung Duo Phone
iPad Mini 4 (For editing videos everyday)
Miscellaneous
Suncream
Wallet
Small First Aid Kit
Ibuprofen
Silicone Earplugs
And that's it, my Packing List for the Ireland Way. Thank you for reading this post and click here if you would like to see videos of my hike around Ireland.